Tuesday, May 1, 2001
3:20 PM (10-Minute Updates)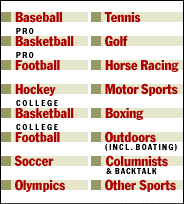 Sign up for The Baseball Report, a weekly e-mail from the baseball writers of The New York Times.
---
FEEDBACK
We welcome your comments concerning The New York Times on the Web sports section. You can also send a letter to the editor of the printed sports section.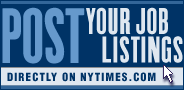 ---



AUDIO ROUND TABLE
Around the Horn
In this week's episode of Around the Horn, the baseball writers of The Times admit to the mistakes they made in their initial predictions and make another round of prognostications -- including one that has David Wells being traded to New York.


KNICKS LEAD SERIES, 2-1
Camby Rejoins Knicks
By CHRIS BROUSSARD
After spending three days away from the team trying to recover from a hostage crisis involving his family, Marcus Camby rejoined the Knicks. He plans to play in Game 4 on Wednesday.

SPORTS OF THE TIMES
Camby Shows How to Put Family First
By IRA BERKOW
After last week's hostage crisis and his lackluster play in Game 2, Marcus Camby wisely chose to step back from basketball and help his family get healthy again.

METS 8, ASTROS 2
Mets Land Back Home Right in Comfort Zone
By RAFAEL HERMOSO
Mike Piazza hit a three-run homer that sparked a Mets' victory over the Houston Astros and opened a six-game homestand with a feel of festivity instead of dread.

TWINS 2, YANKEES 1
Yankees Find Twins No Longer Pushovers
By BUSTER OLNEY
Doug Mientkiewicz snapped a 1-1 tie with a home run off Andy Pettitte in the seventh inning and Brad Radke allowed only six hits as the Minnesota Twins edged the Yankees.

SPORTS OF THE TIMES
The Missing Maple Leaf Is Adjusting
By DAVE ANDERSON
Bryan Berard is learning to live with virtually no sight in his right eye and the reality that his N.H.L. career is over just four seasons after he was rookie of the year with the Islanders.

SERIES TIED, 1-1
Devils' 'A Line' Searching for 'A' Game
By JOE LAPOINTE
The Devils had the highest-scoring line in the N.H.L. in the regular season. But they are fighting a slump in the Stanley Cup playoffs, and are trying to find a way out of it.

To Live Another Day in the Arena League
By RICHARD SANDOMIR
The Arena Football League's once-modest ambition — to survive — has transformed into thoughts of international expansion and hopes for a major television deal.



---

MORE SPORTS NEWS
• Stevens Angry at Lack of Ice Time Down the Stretch
• Despite Statistics, Carter Says He Is Fine
• Ever So Slowly, Canada Warms to That Other Sport
• Indiana's Haston to Enter N.B.A. Draft
• It's Early but Mets Must Find Identity
• Leiter Nearing Return to Mound
• Knoblauch Closer to Boos in Left
• 'A Pitcher's Story': Toting the Wins and Losses of a Pitcher's Art
• Jets Continue to Tap Hofstra Pipeline
• The Rules Under the Arena Football Roof
• Major Senior Tourney Headed to New Jersey
• CART Unaware of Speed Trap
• W.U.S.A. Players Struggling for Points
• The Derby Is Long on Speed and Talent
• Save a Child's Brain: Require a Helmet
• Helping Climbers Fend Off Illness

• Sports Text Version






BREAKING SPORTS NEWS FROM A.P.

Longtime Sun - Times Race Writer Dies 3:15 p.m. ET Writers Find Flaws in '61' 3:10 p.m. ET New Game of Golf Without Tiger 3:01 p.m. ET NCAA Moves to Friday Night Football 2:57 p.m. ET Penguins Jagr Expected in Game 4 2:54 p.m. ET Detroit's Ward Escapes Injury 2:47 p.m. ET Kafelnikov Ousted at BMW Open 2:36 p.m. ET Strikeouts Up, HRs, Scoring Down 2:27 p.m. ET Boxing Card at Aqueduct Postponed 2:22 p.m. ET Calgary Flames Promote Greg Gilbert 2:09 p.m. ET Griffith to Stay With Broncos 2:05 p.m. ET Falcons Sign Veterans Jervey, Thomas 2:00 p.m. ET MORE A.P. NEWS . . .