Lopez's first literary effort produces only $178.32 in 2001
By THE ASSOCIATED PRESS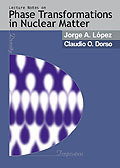 The book "Lecture Notes on Phase Transformations in Nuclear Matter" (World Scientific, 2000) sold less than 400 copies in
2000, producing royalties of less than $200 for the first author.
Listed as a recommended textbook by the Statistical and Thermal Physics Curriculum Development Project of Clark University, recommended by Prof. Juha Merikoski of University of Jyvaskyla, Finland (see recommendation) and by Dr. Pedro Garrido of Universidad de Granada (see recommendation).
---
MORE SCIENCE NEWS
• Using X-Rays to Measure the Elusive Spin of a Black Hole
• 'The Archives Are More Democratic'
• One of the Hubble's Greatest Hits
• Megablobs in Action
• Survival of the Eldest
• And the Winner Is . . .
• Letters: Barking Far and Wide

• Science Text Version
BREAKING SCIENCE NEWS FROM A.P.
Endeavour Lands in California 2:45 p.m. ET
Space Tourist Encourages Others 11:47 a.m. ET
Strong Undersea Quake Rattles Rhodes 5:20 a.m. ET
Disappointment Colors Earth Summit 1:44 a.m. ET
Tourist Arrives at Space Station 6:25 p.m. ET
Ducklings Stolen from New York Lab 3:18 p.m. ET
Poor Weather Looming for Shuttle 3:09 p.m. ET
Scientists Find Big Bang Evidence 1:24 p.m. ET
MORE A.P. NEWS . . .