---
Today's Highlights in History




See a larger version of this front page.



On May 1, 1960, the Soviet Union shot down an American U-2 reconnaissance plane near Sverdlovsk and captured its pilot, Francis Gary Powers. (Go to article.)


On May 1, 1909, Kate Smith, the American singer who was considered the "first lady of radio," was born. Following her death on June 17, 1986, her obituary appeared in The Times. (Go to obit. | Other Birthdays)


On May 1, 1880, Harper's Weekly featured a cartoon about the mass migration of Southern blacks to the West.(See the cartoon and read an explanation.)
---

On this date in:


1786
The opera ''The Marriage of Figaro,'' by Wolfgang Amadeus Mozart, premiered in Vienna.


1898
Commodore George Dewey gave the command, ''You may fire when you are ready, Gridley,'' as an American naval force destroyed a Spanish fleet in Manila Bay.


1931
New York's 102-story Empire State Building was dedicated.


1941
The Orson Welles motion picture ''Citizen Kane'' premiered in New York.


1948
The People's Democratic Republic of Korea (North Korea) was proclaimed.


1967
Anastasio Somoza Debayle became president of Nicaragua.


1967
Elvis Presley married Priscilla Beaulieu in Las Vegas. They divorced in 1973.


1971
Amtrak, which combined and streamlined the operations of 18 intercity passenger railroads, went into service.


1987
During a visit to West Germany, Pope John Paul II beatified Edith Stein, a Jewish-born Carmelite nun who was gassed in the Nazi concentration camp at Auschwitz


1992
On the third day of the Los Angeles riots, beaten motorist Rodney King appeared in public to appeal for calm, asking, ''Can we all get along?''


1998
Eldridge Cleaver, the fiery Black Panther leader who later renounced his past and became a Republican, died in Pomona, Calif., at age 62.


1999
The ''Liberty Bell 7,'' the Mercury space capsule flown by Gus Grissom, was found in the Atlantic 300 miles southeast of Cape Canaveral, 38 years after it sank.


---
Current Birthdays
Judy Collins turns 62 years old today.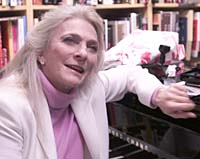 AP Photo/Ed Bailey Singer Judy Collins turns 62 years old today.

85
Glenn Ford
Actor


83
Jack Paar
Former ''Tonight Show'' host


82
Dan O'Herlihy
Actor


76
Scott Carpenter
Former astronaut


72
Sonny James
Country singer


67
Shirley Horn
Jazz singer


59
Stephen Macht
Actor


56
Rita Coolidge
Singer


52
Douglas Barr
Actor-director


47
Ray Parker Jr.
Singer-songwriter


36
Wayne Hancock
Country singer


35
Johnny Colt
Rock musician (The Black Crowes)

35
Charlie Schlatter
Actor (''Diagnosis Murder'')


34
Tim McGraw
Country singer


33
D'Arcy
Rock musician (Smashing Pumpkins)


25
Darius McCrary
Actor


Historic Birthdays


Kate Smith


5/1/1909 - 6/17/1986
American radio and television singer
(Go to obit.)



47
Joseph Addison
5/1/1672 - 6/17/1719
English essayist, poet and dramatist


56
Benjamin Latrobe
5/1/1764 - 9/3/1820
British-born American architect and civil engineer


83
Arthur Wellington
5/1/1769 - 9/14/1852
English general; defeated Napoleon at the Battle of Waterloo (1815)


48
Jose Alencar
5/1/1829 - 12/12/1877
Brazilian journalist, novelist and playwright


100
Mary Harris Jones
5/1/1830 - 11/30/1930
American labor organizer known as "Mother Jones"


87
Cecilia Beaux
5/1/1855 - 9/17/1942
American portrait painter


73
Pierre Teilhard de Chardin
5/1/1881 - 4/10/1955
French philosopher and paleontologist


87
Mark Clark
5/1/1896 - 4/17/1984
American army general during World War II and the Korean War


93
Eugene Black
5/1/1898 - 2/20/1992
American financier; president of the World Bank (1949-62)


60
Winthrop Rockefeller
5/1/1912 - 2/22/1973
American philanthropist and governor of Arkansas (1967-71)


71
Terry Southern
5/1/1924 - 10/29/1995
American novelist and screenwriter